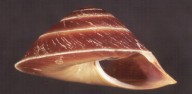 Samoan Snails Searchable Database

(data last revised 29 May 2003)
This database represents the Samoan distributional and nomenclatural information included in Cowie, R.H. 1998. Catalog of the nonmarine snails and slugs of the Samoan Islands. Bishop Museum Bulletin in Zoology 3. Bishop Museum Press, Honolulu, as well as Samoan specimen records of non-marine snails and slugs held in the Bishop Museum Malacology Collection. Some of the specimens included in this database represent previously unpublished Samoan records. The database is continually being updated, especially regarding correct identification of specimens and incorporation of new material.
The Field Museum (Chicago) also has significant holdings of Samoan land snail specimens, available for online searching.
For questions or comments, please contact Robert Cowie, the Project Leader.

---
Field Definitions | Samoan Snail Catalog Home | Samoan Snail Project Home